We have an increasingly full range of composting products.  Scroll down to see our current selection of composting bins and tumblers, and all that you need to help you get started composting! 

You can order directly through our website (and paypal),
or call to place your order: 714-599-2808.

If you are interested in group sales and fundraising opportunities, then contact us for more information and discount and wholesale pricing.

Thanks for visiting and supporting our work... Let's hear it for giving back to this Great, Big, Beautiful World we live in!
---
Make your compost faster and more easily with the Urban Compost Tumbler.  Manufactured right here in Southern California, this is a truly Local option!
The Urban Compost Tumbler,
Made in Southern California!
Price: 
$250
, and $38 for shipping and handling.
(Call if you are in the Santa Ana area and would like to arrange direct pick-up)
---
Perfect for small spaces, the Worm Factory
®
is easy to manage. When full, each tray weighs approximately 12.5 pounds, making lifting and arranging trays effortless. The Worm Factory
®
, by Cascade Sales Manufacturing Inc., uses an upward migrating design that makes producing this nutrient-rich "black gold" easy and effective! Master gardeners agree that compost made by worms is the most beneficial for your garden and house plants. 
The Worm Factory
®
is the perfect solution for any gardener looking for an easy, effective way to produce the best compost for their plants. Go green and help your garden with the Worm Factory
®
!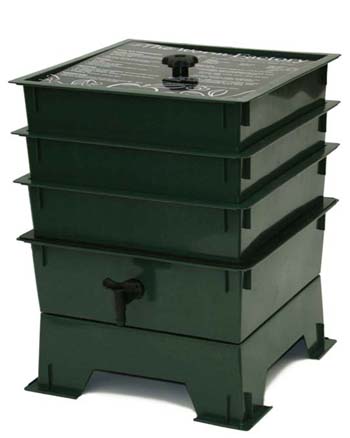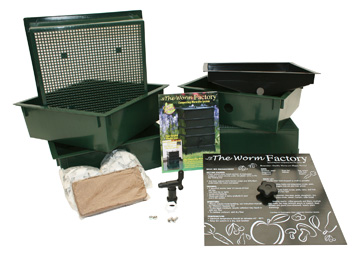 (
Made
in
the
USA
!
)
The Worm Factory

Competitor's Price: $105.00 
Our Price: 
$95.00

---
Worms by the Pound, Red Wrigglers

Competitor's Price: $35/pound
Our Price: 
$25.00
/pound
Our special composting worms are raised with loving care right here in Southern California.
---
You'll be amazed to learn all the wonders of worm doo-doo.  Worms and other micro-organisms bring life back into the soil.  Packed with nutrients and many of the elements your plants need to grow, worm castings are an organic way to feed your plants. They also help to protect plants against white flies and aphids. Use in potted plants, in new plantings, or in established plants to revitalize the soil, and the plants.

Worm Castings: The Best Doo-doo on Earth!

---
Suitable for hot or cold composting, the Earth Machine is easy to use.  And if you want to move your compost pile to a new location, the shape makes it easy to simply lift the Earth Machine up and off the current pile and put it in the new spot.  A how-to manual accompanies the bin. 80 gallon capacity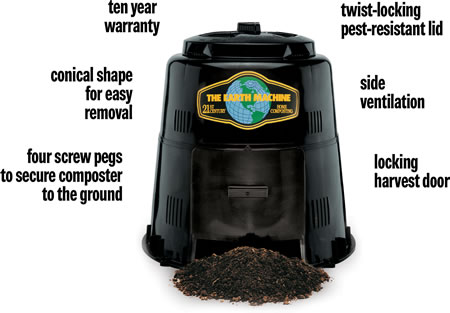 The Earth Machine
Competitor's Price: $110
Our Price: $85
Sorry, Currently Sold Out!
FYI: The prices have jumped on these, so we're arranging an economical alternative in the New Year.  Call if you'd like to get one sooner.
---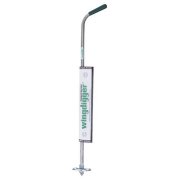 Make the task of turning your compost pile so much easier, by simply plunging this aerator into the depths of your pile and pulling it back out.  Use this every week to increase the speed of your compost process.
The WingDigger, A Compost Aerator
Original Price: $30.00  Sale:
$20.00
---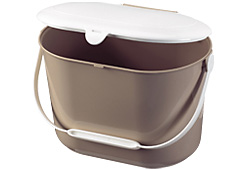 Store it on or under your kitchen counter, or better yet, put one in every room for compostables-collection.  Collect your compostable waste and easily tote it out to the compost pile in this Collector. Actual color: beige, not brown.
The Compost Collector

Price:
$12.00

---
To complete your transaction:
Contact us about our Composting bins and special group discounts or retailer pricing.